People in Canada, including Toronto, looking to take advantage of the country's great outdoors can do so with a high-quality bicycle. Trek Bikes Canada can help, as Trek cycles can be found throughout the country. Many large Canadian companies trust Trek bikes and incorporate healthy habits into their work culture, such as TC Energy, Casino Valley, Sun Life Financial, Rogers Communications and many others. Various types and models are available to meet every individual needs and tastes.
Here is a guide to popular Trek bicycles in Canada, with reviews of features, specifications, and prices. Keen cyclists can continue reading for help in making the right choice.
Trek Bikes Developments and Technologies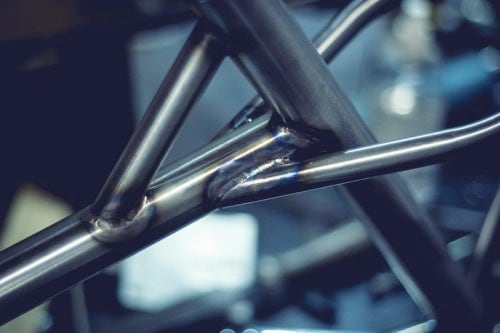 In terms of materials used, the bike Trek produces has gone through an evolution over the years. The company started manufacturing hand-brazed steel frames. In 1985 the company began to produce aluminum models, which have become a norm for the cycling industry.
Material
Trek Bikes developed Alpha Aluminum, an advanced building material that delivers strong, light-bodied with an excellent ride quality. It enables Trek bikes to be compliant and affordable without losing the acceleration that aluminum is best known.
From the eighties, Trek Bicycles have been influenced by the aerospace industry. The company has worked closely with companies to develop unique materials. Trek has a patent for its carbon-fiber process, Optimum Compaction Low Void (OCLV). This process can reduce the weight of a structure while maintaining its strength and firmness.
Suspension Systems
In suspension system technology, Trek has addressed a common issue of contention. With many mountain bike models, suspension systems will become ineffective when the brakes are applied. It means losing the cushioning of suspension at the time you need it the most: when you are traveling over uneven ground.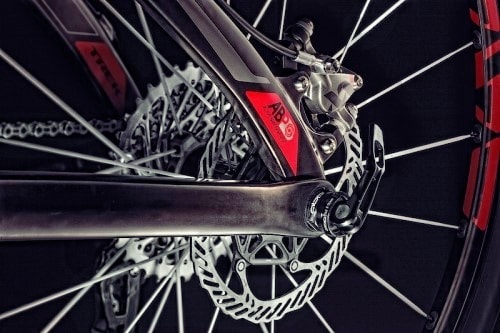 Trek Bicycles developed the Active Braking Pivot (ABP) in which the suspension is unaffected by braking. With ABP, braking later is possible while control is maintained.
RE:aktiv is another suspension technology that was developed by Trek. It provides efficient control on technical trails. It is modeled after Formula One racing, as it needs power while accelerating, with the ability to handle sudden impacts. It is an aspect of the rear shock design and uses regressive damping rather than progressive or digressive damping.
IsoSpeed
Striking a balance between stiffness and compliance has always been a challenge with the traditional diamond-shaped bicycle. In 2012, Trek Bicycles developed IsoSpeed, which frees the seat tube from the main structure. This enables 'vertical compliance' in which the seat post and seat tube cushions the weight of the rider. Bikes that use IsoSpeed ensure smoothness of ride while maintaining control and efficiency.
Geometry and Shape
Trek engineers work to develop the most efficient designs to achieve a high level of aerodynamics. It enables Trek bikes to compete on an international scale. It involves technologies such as wind funnel testing to discover a particular model's aerodynamic potential. Computational Fluid Dynamics (CFD) is used to test tube shapes in a virtual space.
Trek Road Cycling
With the unique technologies available, Trek excels in bicycles for the road. These are skillfully engineered to deliver the maximum in cycling horsepower.
Domane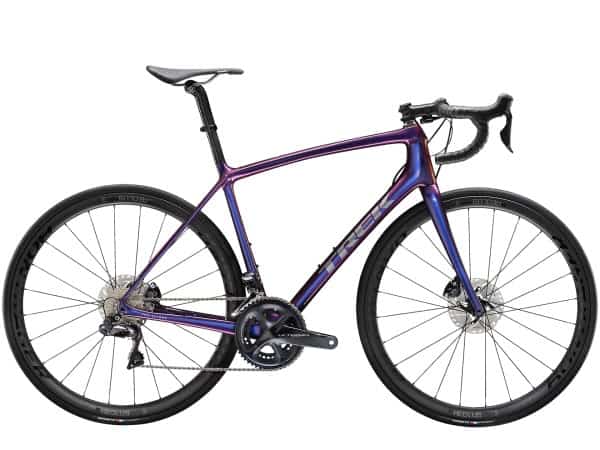 One of Trek's leading ranges of bikes, Domane, is a popular choice that is characterized by speed and versatility. A new model in the Domane category for 2020, the Domane SL6 is a mid-range bicycle that is both reliable and enjoyable to ride. It features IsoSpeed at the front as well as rear, which gives it a comfortable smoothness.
It has a carbon-fiber body, which doesn't negatively impact on speed in most situations, but this does show in especially steep climbs. Despite this, it is incredibly versatile and can be used for commutes, short quick rides, weekend rides, or multi-day touring. It is priced at $3,999.99.
Émonda
Bikes in the Émonda line can be defined by one key quality – lightness. This family of bicycles are also versatile and come with reliable disc brakes. One such model is the Émonda SLR 7 Disc, which has the lightest ever carbon frame that also incorporates OCLV technology. It has a quick-shifting Shimano electronic drivetrain.
It also provides hydraulic flat-mount disc brakes for improved braking. All of this makes it a great option for speed, balance, ride quality, and stiffness. It is priced from $9,599.99 – $10,249.99.
Madone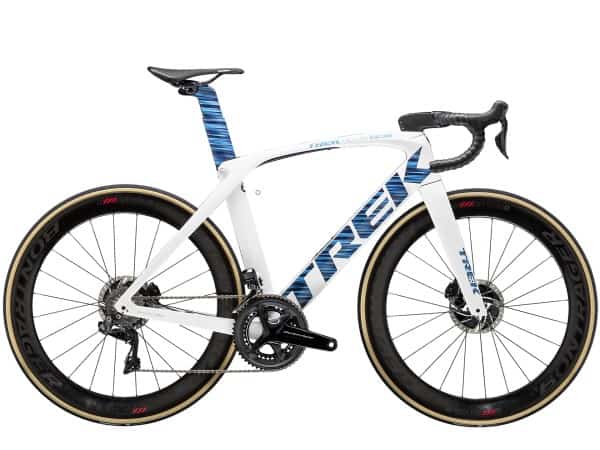 When it comes to road bikes, Madone stands alone. These are truly among the world's finest and have led to victory at the global competition level. One of the best examples of these is the Madone SLR 9 Disc, which is fast, comfortable, and with great handling. This line dates back to 2003, but more modern versions come with disc brakes.
This model is especially aerodynamic, and it uses an IsoSpeed decoupler that can be adjusted to rider weight or terrain. However, it is still made for smooth surfaces and is hard and fast before it is comfortable. Prices range from $17,649.99 – $17,899.99.
Trek Mountain Bikes
Marlin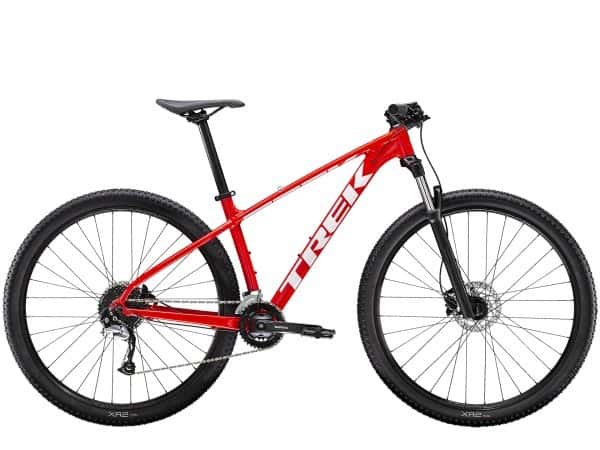 Bikes from the Marlin range are versatile, durable, and ready for any terrain. The Marlin 7 is an affordable option ($969.99) for beginners looking to learn more. It has an aluminum body and a 9-speed drivetrain, and it can be suitable for a casual ride or a commute.
It is not the lightest, but with hydraulic disc brakes for control as well as shock absorption for handling, this is a well-rounded mountain bike.
X-Caliber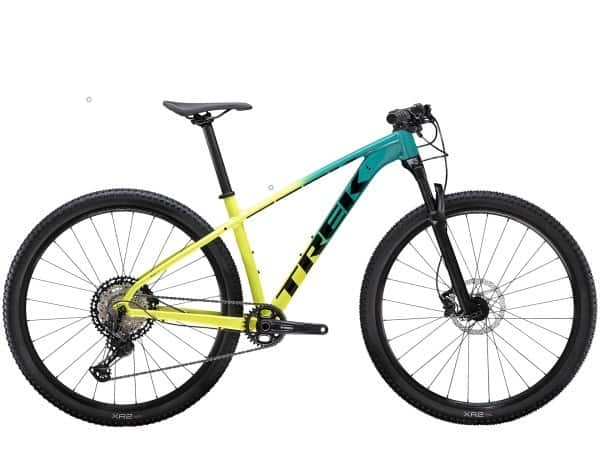 X-Caliber bikes are for cross-country and those who like to take singletrack trails at speed. For 2020, X-Caliber is updating its range with alloy-only bicycles, still at an affordable price ($1,999.99). The Trek X-Caliber 9 is well made and with a light, but sturdy, aluminum bodythat is comfortable to ride. It is an excellent hardtail bike for cross country and even downhill.
Stache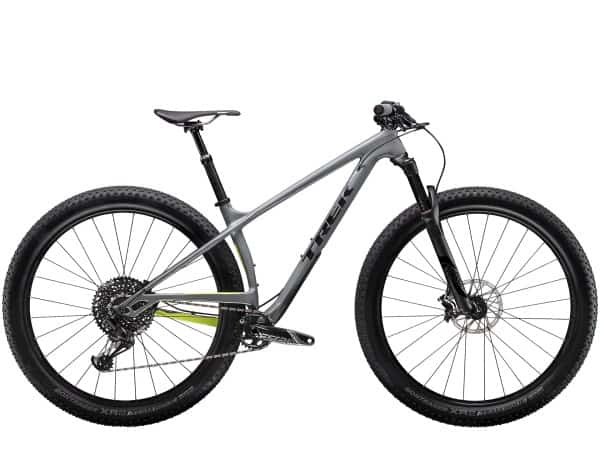 Another range of hardtail mountain bikes that are good for trails, those in the Stache range are simple, capable, and enjoyable. A great choice in this line would be the Stache 9.7, which is a fast and light hardtail with a carbon-fiber frame. On the right terrain, this bicycle is fast, but it is not the best for sharp corners or very rocky trails. It is priced at $4,799.99.
Top Fuel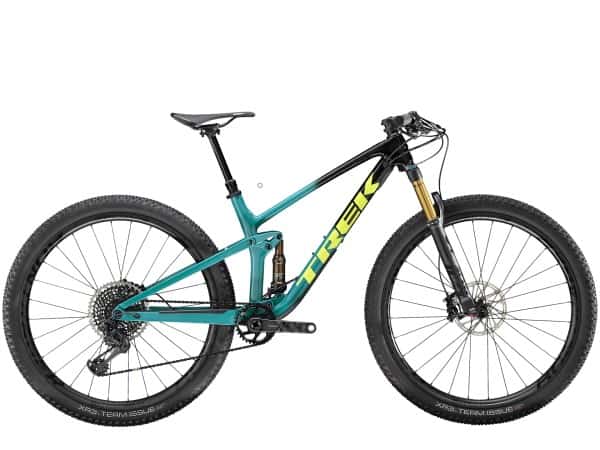 Mountain bikes from Top Fuel are built for cross country, but they can also handle the more wayward singletrack excursions. Each model bears a unique design of frame and suspension. The Trek Top Fuel 9.9 is a recent iteration, and it is agile and able to handle tough terrain.
The suspension system enables travel without imbalance, but the SRAM level brakes are slightly lacking in power. The price is $11,699.99 – $12,349.99.
Trek Hybrid Bikes
Hybrids are those general-purpose models that blend the qualities of the city, touring, and mountain bikes. They are versatile on different surfaces and can be used for commuting, fitness, and leisure.
FX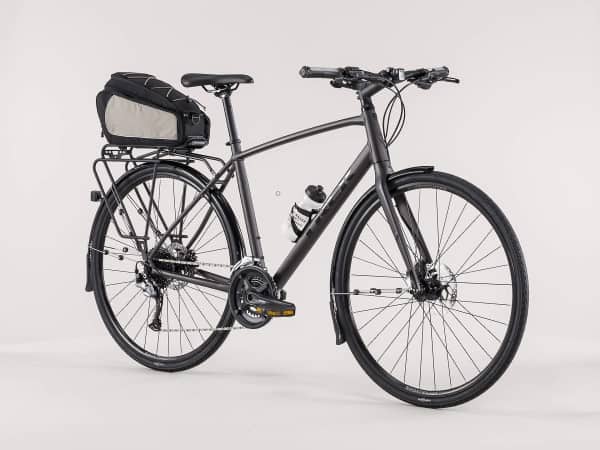 Models from the FX range have wider tires than the city and touring bikes for comfort and versatility. They have a position that enables speed but is sufficiently upright to see through traffic. The FX 3 Disc offers comfort and performance in different ride scenarios.
It has a carbon fork and an aluminum frame that is light, responsive, and great for hill climbing. The Shimano hydraulic disc brakes are powerful and give excellent control, and it is affordable at $979.99.
Dual Sport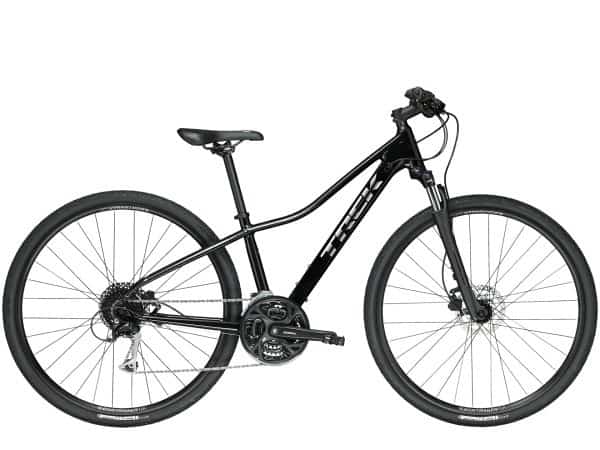 Dual Sport bikes are better prepared for different surfaces. They come equipped with front suspension forks for absorbing bumps and wide tires that improve traction. The Dual Sport 3 is affordable ($979.99) and can handle city streets or rougher terrains.
It has an Alpha Gold aluminum structure for better handling and a range of gears to make hills more manageable. Also, an SR Suntour NEX lockout fork for better shock absorption.
Verve
Bikes from the Verve family offer an upright position, geometry that is more relaxed and wider tires for cushioning bumps. At the highest end of this line is the Verve 3 Disc, a comfortable ride for commuting or keeping fit.
It has a light Alpha Gold aluminum body, an IsoZone handlebar, a suspension seat post for a smoother ride, and hydraulic disc brakes. It is a comfortable and fast option that is great in all weather conditions, and just $949.99.
Trek Women's Bikes
These provide options for female and gender-neutral riders, with touchpoints that are more comfortable for some individuals. The technology used is known as Women Specific Design (WSD), and they may be bicycles for the mountain, country, or city.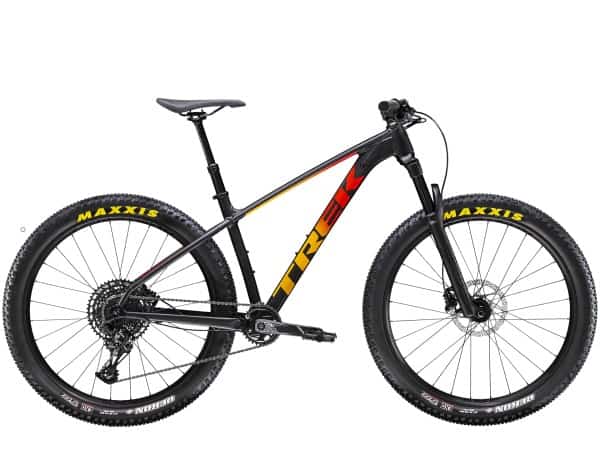 When it comes to mountain bikes, the Roscoe 8 is a hardtail for trails that is enjoyable and can handle tough trails. It uses light and responsive Alpha Gold aluminum and a RockShox fork for better handling. There are Maxxis Rekon plus-sized tires for better handling and powerful Shimano hydraulic disc brakes.
It also has an SRAM NX Eagle 1×12 drivetrain for high-performance gear shifting in different situations. Priced at $949.99.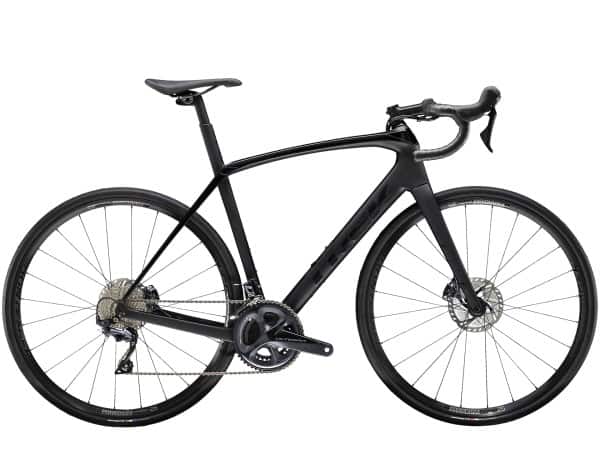 The Trek Domane 6 is a versatile mid-range road bike, with a price that reflects this ($3,999.99). It has an ISOSpeed body for a smoother ride, as well as front and rear decouplers for extra comfort. It has a carbon-fiber frame with bulky but aerodynamic and responsive tubing.
It has wide-ranging Shimano gears and reliable shifting. It is not the fastest, but it is comfortable and reassuringly versatile.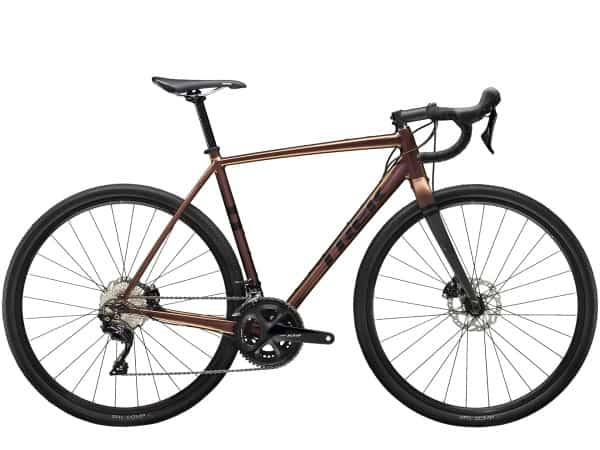 A gravel bike with an excellent build, the Checkpoint ALR 5 handles on gravel, pavement, and dirt roads. Ready for any adventure or terrain, the ALR 5 has impressive tire clearance and stranglehold dropouts that can be adjusted. It also has extra mounts that can be customized to meet any adventure. It is priced at $2,649.99.
Trek Fat Bikes
In recent decades fat bikes have hit the mainstream. These are for rough terrains with oversized tires and wide rims that aim at low ground pressure for softer terrains, such as sand, mud, and snow. Tires may be over 100mm in width and rims wider than 55mm.
Farley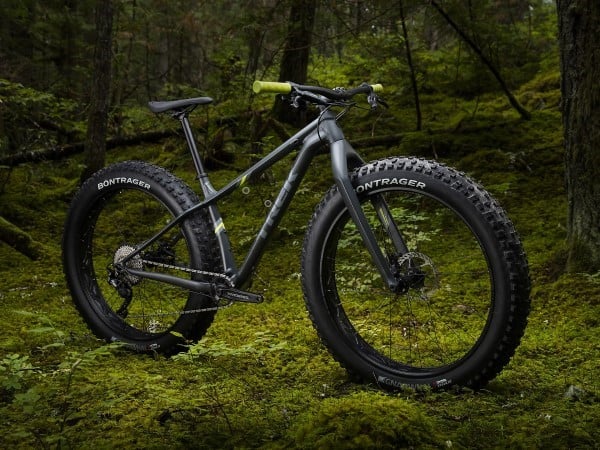 The Trek Farley 5 ($2,099.99) is one of the more affordable options when compared with other models. It is a capable bicycle that is lightweight and exceptionally efficient on uphill climbs.
It has an Alpha Platinum Aluminium body that is light and fast, and 27.5×4.5 Bontrager Gnarwhal tires for excellent traction. Great for any terrain or weather condition, the Farley 5 is a great-entry level big-tire bike. Unfortunately, the saddle is not the most comfortable in the market.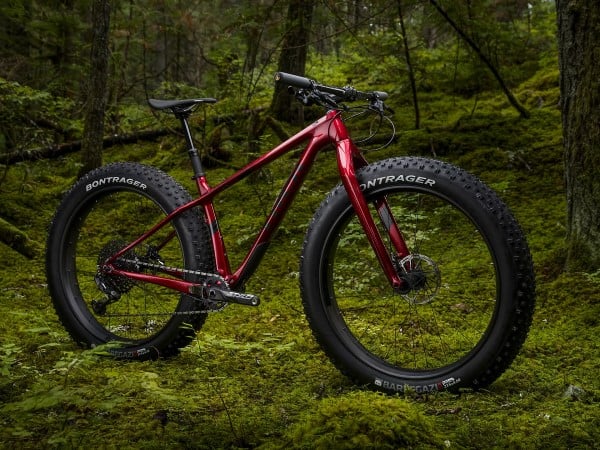 At the top end of the range, the Farley 9.8 is a component-level fat bike that is also one of the lightest available, with no suspension to weigh it down. It is built for speed, with an OCLV carbon frame, wheels, and fork.
It also has a 1×12 SRAM GX drivetrain for handling different terrains, and 27.5×4.5 Bontrager tires on Tubeless Ready Bontrager wheels. The larger tires provide more speed and traction, and it is light and fast. It is a high-performance, four-season bike that will give riders a thrill whatever the weather.
Trek Electric Bikes
With a little extra power, electric models can give you some help while climbing hills. They are also great for getting back into cycling or making everyday travel a breeze. Electric bikes come with a mid-drive pedal-assist motor at the pedals and a display on the handlebars. They also have a battery that is usually located in or on the downtube.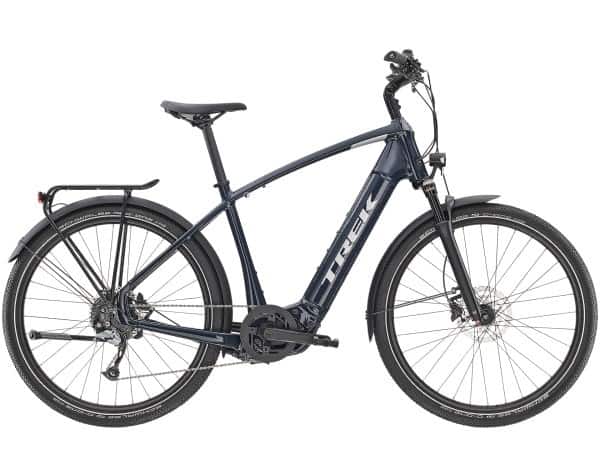 Trek bikes that are electric are denoted by the plus (+) symbol, such as the Allant+ 7, which is at the more affordable end of the Allant range ($4,799.99). This bicycle is suitable for city commutes and light trails and is handy, stylish, and durable.
It has a Bosch Performance Line CX motor capable of shift detection, and a Removable Integrated Battery (RIB). It also has a spring suspension fork and mounts for a second battery pack on the high step model.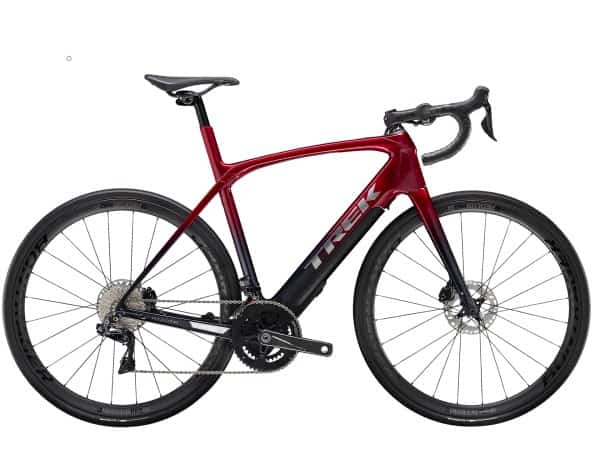 At the higher price of $16,999.99, the Domane+ LT9 is designed as a regular road bike with extra power for when it is needed. It has a 500 series OCLV fork and frame, and a light and efficient Fazua Evation motor.
The battery is 250 Wh that can assist speeds of up to 25km/h. With one of the best Shimano electronic drivetrains and an electronic drive system that will almost go unnoticed.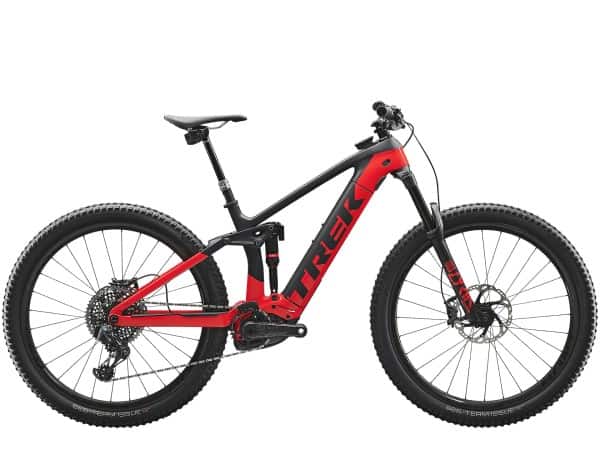 An electric mountain bike, the Trek Rail 9.9, is designed for trail performance. It features a Bosch Performance Line CX 250-watt motor that is efficient, with minimal size and weight. The assistance feels natural and has less drag when not used.
The Rail 9.9 also has a lightweight OCLV frame and RockShox suspension fork. It is incredibly light, and with the RIB system, the battery can also be removed. Priced from $15,999.99 – $16,649.99.
Trek Children's Bikes
For every parent buying for their children, bicycles need to be safe, reliable, and comfortable. Trek has children's bikes for every age and height, with different options in body and wheel size, color, style as well as brake and gear systems.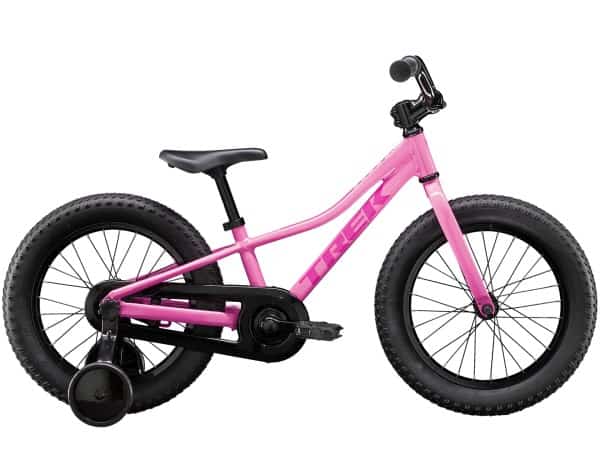 For children aged between 4 and 5, or between 100cm to 115cm in height, the Precaliber 16 is one option. It offers two different models for boys and girls. It has a handle in the saddle for parental assistance and training wheels that can be easily installed or removed. With a 16-inch Alpha Silver Aluminium body, the crossbar is lower, so it is easier for a child to climb on. It is priced at $309.99.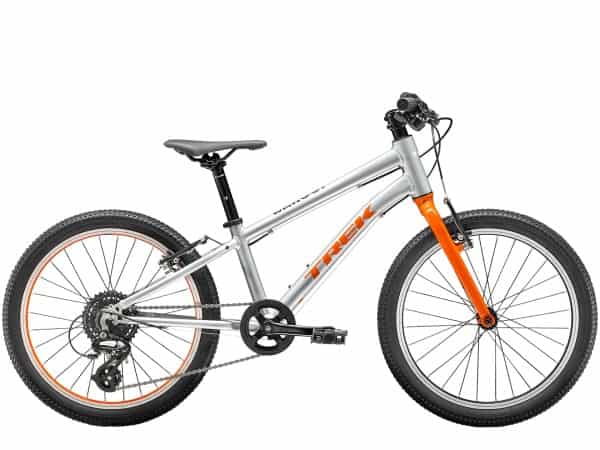 For those between 6 and 8, or 115cm to 130cm in height, the Wahoo 20 is a lightweight bike with a 20-inch frame. It is a simple and easy-to-use hybrid model that can handle a range of surfaces. It has a 1×8 drivetrain and 24 gears and is very easy to accessorize. Priced at $539.99.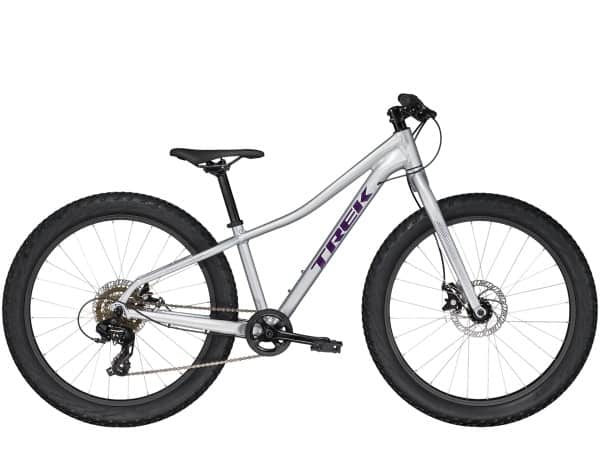 For older children between 8 and 12, or 130cm to 150cm in height, the Roscoe 24 is a mountain bike. Designed after the adult Roscoe, this was built for kids. It has a 24-inch Alpha Gold aluminum body and a simple 1×8 drivetrain. With 70mm wide tires, this is great for building up skills on the trail and costs just $649.99.
Trek Bikes for Specific Purposes
In addition to the more common categories given above, the bike Trek produces may also fulfill a range of uses.
Fitness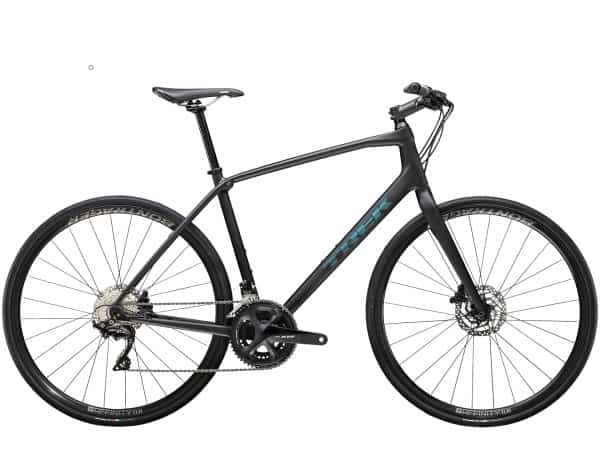 A popular type of bike Trek manufactures that can be used for a workout, the commute, or just getting around. The FX Sport 6 has a lightweight OCLV frame and a carbon fork, as well as an IsoSpeed decoupler. It is available in a stylish matte trek black and is priced at $2,749.99. It is an excellent choice for those serious about cycling for fitness.
Adventure and Touring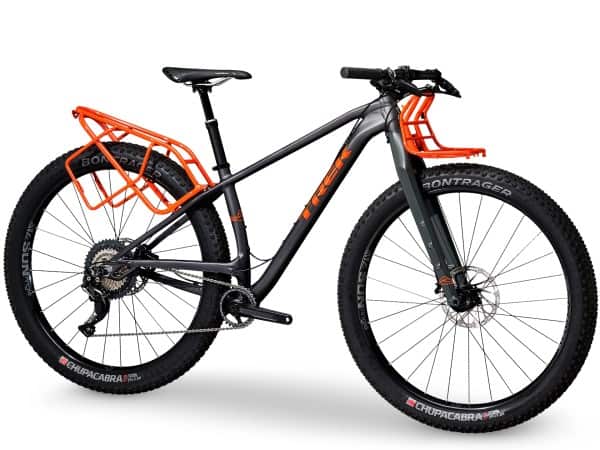 Bicycles for tours and adventures need to be ready for everything and all climate conditions. The Trek 1120 is a touring bike with off-piste and mountain capabilities and is excellent for both long and short trips. It has a 17.5-inch Alpha Platinum aluminum body, and it weighs 14.17kg. It is priced at $3,399.99.
Triathlon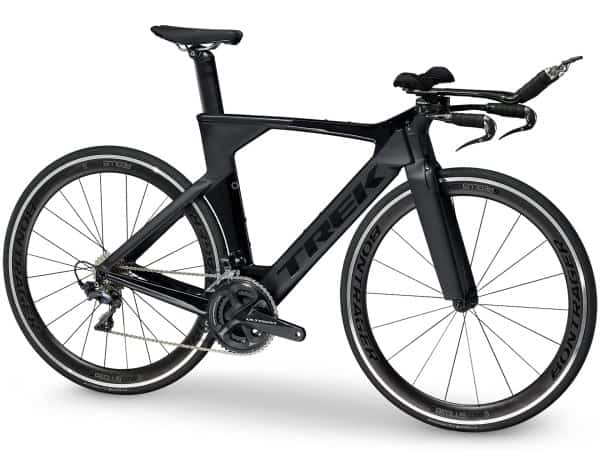 For triathletes and time trialists who enjoy an extra challenge. The Trek Speed Concept is a customizable option that has the speed needed for triathlons. This range of bikes uses the OCLV frame and Bontrager tires and wheels. It has an 11-speed drivetrain and is the best Trek bike for aerodynamics. These are available in four colors and priced from $5,999.99 – $6,649.99.
Trek Bikes Brand History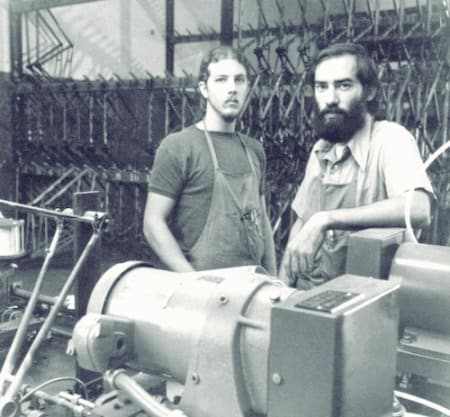 In December 1975, Trek Bicycle was first established in Madison, Wisconsin. After co-founders Richard Burke and Bevil Hogg had met by chance on a plane, Burke decided to make two purchases from Hogg's bicycle shop. These were for a cycle tour that he took with his son, John. Later, Burke invested in Hogg's business, and they opened a chain of bicycle shops in university towns across the country.
---
Unfortunately, this venture was unsuccessful, and the partners lost money. Their next plan was to create Trek Bicycle and start to manufacture bicycles instead of just selling them. They aimed to be the first manufacturer of high-quality bikes in the United States, a market that was dominated by Italian and Japanese models. The first bicycle to be manufactured by Trek came from a rented barn in rural Wisconsin and a team of just five employees.
The company started just producing framesets, and then in 1980, it began to produce complete bikes. In the following year, Trek entered the market for road racing. Then in 1982, the company produced its first mountain bike.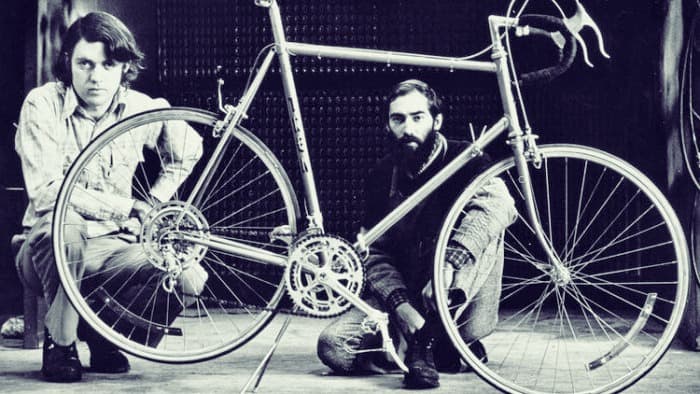 Over the years, the company has worked hard to meet the needs of its customer base. It has pioneered different materials and developed Trek bikes for women, children, as well as bicycles for specific requirements.
Today, Trek is a billion-dollar firm, one of the largest bicycle manufacturers in the world. Beginning as an American company, Trek now has distributors in 90 countries around the world. Trek Canada comprises around 200 stores.
It sells around 1.5 million bicycles every year and makes annual revenues over one billion dollars.
The company employs approximately 2,000 employees, about half of whom are Wisconsin based. In 1997, Richard Burke was succeeded by his son, John, as President of the company.
FAQ
🚲 What is Trek?
The Trek brand is an international bicycle manufacturer with distribution in countries worldwide. The company is from the United States, but Trek bikes Canada also has a considerable influence.
👍 Are Trek bikes good?
Trek Bicycles is a respected and renowned global brand with a solid reputation for producing high-quality bikes. It also has a wide range of accessories and has sponsored many leading athletes competing on the world stage.
🇺🇸 Where are trek bikes made?
Trek bicycles are no longer made at the company's headquarters in Wisconsin, but now only some painting and assembly take place here. Most models are now manufactured in China, Taiwan, Germany, and the Netherlands.
💵 How much does a trek bike cost?
Trek bicycles Canada vary in price, with low, mid, and top-range brackets. The price also depends on the type, design, and features. While more affordable hybrid bikes may be priced at around $800, high-end racing bikes can cost as much as $18,000.
With an excellent range of high-quality bicycles in every genre, Trek is a reliable brand that cyclists can count on. From inexperienced newbies to seasoned pros, Trek has the answer.